This is an exclusive event - personal invitation only with limited seats available.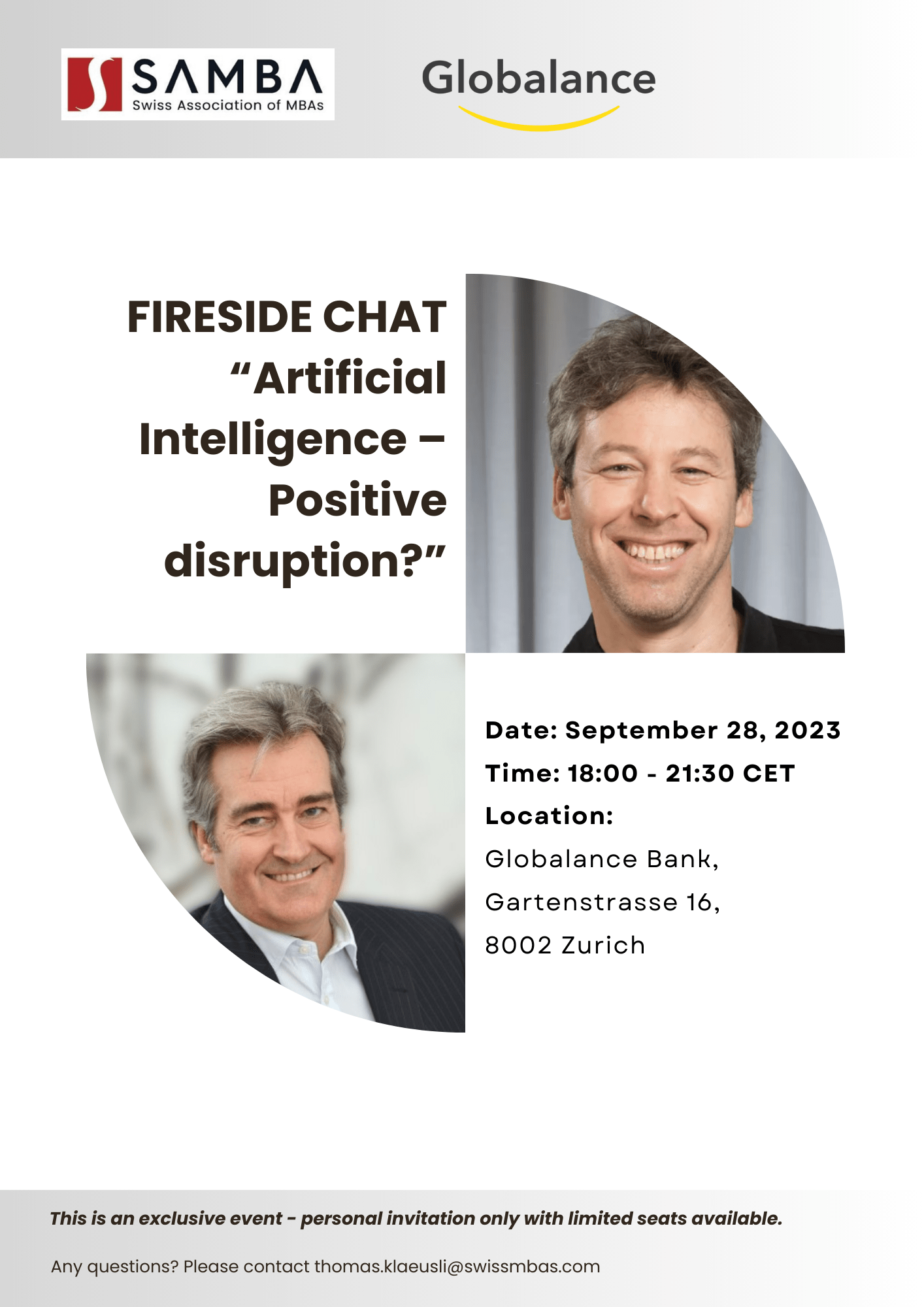 We would like to cordially invite you to a small and exclusive Fireside Chat on the topic of "Artificial Intelligence – Positive disruption?" on 28 September 2023, 18:00 - 21:30 CET.
The renowned AI expert and Lead for Cloud Conversational AI at Google, Yariv Adan, will shed light on the potential and exciting opportunities, but also the risks of artificial intelligence for our future. Together with the founder and CEO of Globalance, Reto Ringger, Yariv Adan will discuss the importance of artificial intelligence for companies and future business models. Join us to discuss with two renowned experts the opportunities and risks of AI.
Nik Haller, Member of the Executive Board of Globalance, and Thomas M. Kläusli, Board Member of the Swiss Association of MBAs, will host the evening.
We are very much looking forward to welcoming you to this exclusive networking event.
Yariv Adan
Sr. Director Product Management, Google Cloud AI
Yariv has been leading product teams at Google since 2007. In his current role, Yariv is the Sr. Director of Product for Conversational AI in Google Cloud. Before that, he was one of the founders of the Google Assistant and Google Lens, the lead PM for privacy and security, built and led the Emerging Markets product team, and worked on YouTube monetization. Before joining Google, Yariv spent 10 years as an engineering manager in various Israeli start-ups and companies.
Reto Ringger
Founder and CEO Globalance Bank AG
Reto is a pioneer and entrepreneur at the interface of the financial market and sustainability. In 2011, he founded Globalance Bank, which he heads as CEO. Globalance Bank is an owner-managed Swiss private bank specialising in future oriented and sustainable investments. Following the bank's positioning as future oriented investment advisor Reto has initiated as an early mover various internal initiatives to explore the usage of AI and allow Globalance clients to participate in this dynamic development.
Prior to Globalance Bank, Reto Ringger founded SAM Group in 1995, which he successfully sold to the Robeco Group in 2008. In cooperation with Dow Jones, SAM launched the Dow Jones Sustainability Index under Ringger's leadership. Reto Ringger has received numerous awards for his entrepreneurial successes.
Please note: this is an exclusive event by personal invitation only. Limited seats available.
Do you have any questions?
Please contact [email protected]
For further information: https://www.globalance.com/artifical-intelliegence-firesidechat/