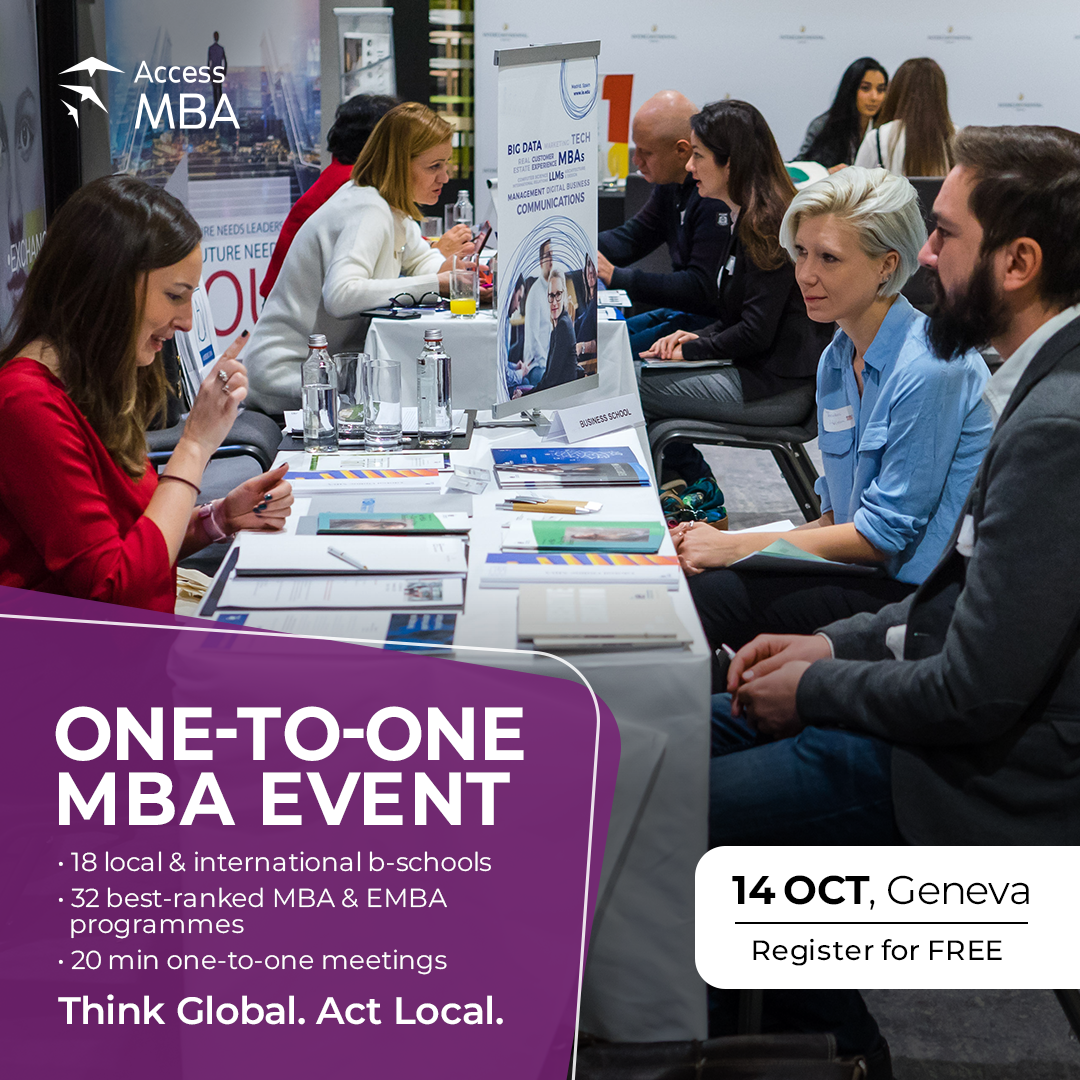 THINK GLOBAL. ACT LOCAL WITH AN MBA! DISCOVER YOUR MBA OPPORTUNITIES ON 14 OCTOBER.

At the upcoming Access MBA One-to-One event in Geneva, you will get the full package of guidance and orientation to help you choose a top business school for your needs.
Get ready to meet representatives of 32 international MBA & EMBA programmes on 14 th October at the Warwick Geneva Hotel. Discover study opportunities that match your goals – all in one place.

What to expect from the event?
At Access MBA, you get a fully personalised, free service that saves you valuable time and effort. Even before the event, an experienced team of MBA consultants start by assessing your professional
background. By the time you get to the event, you will know which business schools offer the best fit for you – and business schools will be ready to meet you too.

Each 20-minute meeting is an opportunity to impress a top international MBA programme and to ask all questions that matters you. Some of the participating schools at the event are: HEC Lausanne,
IMD, University of Zurich, University of St. Gallen, Oxford – Said Business School, SDA Bocconi, EM Lyon, and many more.

Interact with top business schools and alumni during an exclusive networking cocktail. Connect with like-minded individuals and embark your journey towards professional success. Receive a free
focused coaching session on self-promotion - how to leverage your expertise & CV/LinkedIn Review.

Where will an MBA take you?
The MBA is more than a diploma. It's a journey of personal growth that equips you with new skills and guaranteed job opportunities. The numbers speak for themselves – 87% of alumni report a
positive ROI from their graduate business education; 71% of corporate recruiters agree that employees with business school education tend to earn more. (GMAC).

Do you like the sound of that? Join the Access MBA One-to-One event in Geneva on 14th October by registering at: https://www.accessmba.com/l/gVz