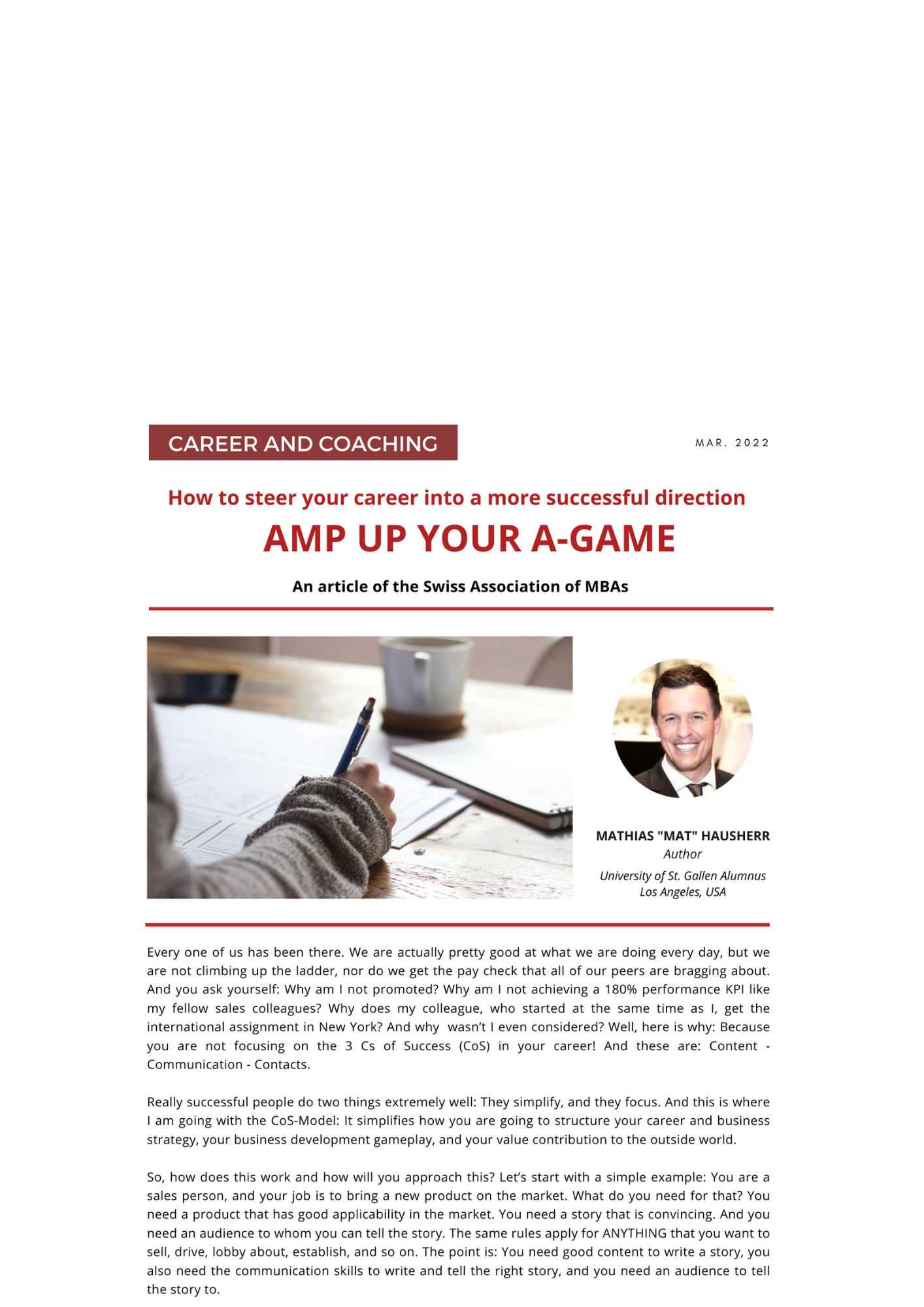 How to steer your career into a more successful direction - AMP UP YOUR A-GAME
Every one of us has been there. We are actually pretty good at what we are doing every day, but we are not climbing up the ladder, nor do we get the pay check that all of our peers are bragging about. And you ask yourself: Why am I not promoted? Why am I not achieving a 180% performance KPI like my fellow sales colleagues? Why does my colleague, who started at the same time as I, get the international assignment in New York? And why wasn't I even considered? Well, here is why: Because you are not focusing on the 3 Cs of Success (CoS) in your career! And these are: Content - Communication - Contacts.
Really successful people do two things extremely well: They simplify, and they focus. And this is where I am going with the CoS-Model: It simplifies how you are going to structure your career and business strategy, your business development gameplay, and your value contribution to the outside world.
So, how does this work and how will you approach this? Let's start with a simple example: You are a sales person, and your job is to bring a new product on the market. What do you need for that? You need a product that has good applicability in the market. You need a story that is convincing. And you need an audience to whom you can tell the story. The same rules apply for ANYTHING that you want to sell, drive, lobby about, establish, and so on. The point is: You need good content to write a story, you also need the communication skills to write and tell the right story, and you need an audience to tell the story to.
This all sounds very simple, but if you ask yourself: Which of these 3 areas am I a proficient in? Where do I have a void? If you have no gaps, you can stop reading here, it seems that you are already a rockstar. But if you have come to the conclusion that one or two of these Cs have not been on your radar, let's look at them.
Your business development personality
Based on the Swiss psychologist's Carl Jung color typology, the "Jungian Typology", there are four psychological types: Red (Extraverted), Blue (Introverted), Green (Empathetic), Yellow (Enthusiastic).